Mexican Talavera Angle V Cap
Estos embellecedores y molduras le darán ese toque final a tu proyecto. Son únicos, cada uno pintado a mano por la pasión y dedicación de los Artesanos. Crearás un ambiente cálido y alegre para levantar tu estado de ánimo en cualquier momento.
Tamaño: 2

x 4

", 2 x 6", (0,25 "de grosor)
Podemos hacer estos adornos para que coincidan con el diseño de sus azulejos, solo envíenos su solicitud por correo electrónico: contáctenos
These beautiful hand painted talavera tiles will bring colorful and happy vibrations anywhere you decide to install them. They are unique, each hand painted having their own personality. More than a plain decoration, these Mexican tiles will create a warm and cheerful environment to lift your mood at any time. The artisans passion and love for their work in these tiles are easily shown at first glance.
Nuestras baldosas de Talavera son una de nuestras artes más adorables en nuestro catálogo, desde Australia hasta Canadá, nos alegra que estén llegando a tierras lejanas y haciendo que la casa de alguien sea un poco más " Feliz ".
Sizes (Keep in mind that handcrafted tiles have size variations, 1/8" between tiles are normal):
2x4

" and

2x6

" (0.25" thick)
Note: If you have an specific size requirement we most likely can help, please contact us with your request.
Colors: Available to match your tile design background, if you do not see the color listed, please email us your request or add a note at the check out page. We will make sure we make them as per your requirements.
Material: Clay pottery ceramic hand painted with lead free paint, hard glazed at high temp ovens following the tradition of Talavera process.
Our superior tiles have an additional layer of a red body bisque and double thickness, making them frost proof and of longer durability. If you want a tile for your outdoors in frozen temps and that will last for generations, choose our superior tiles.
Note: Due to different monitor color resolutions what you see may differ a bit for what you get.
If you need a better color match, or want to make sure you get what you need, please contact us. We can arrange for samples or other ways to help you.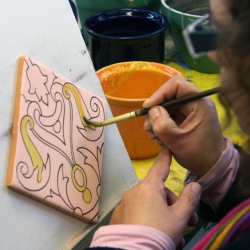 Encontrar los mejores artesanos de azulejos de talavera en México no es un trabajo fácil, por eso me complace presentarles lo mejor. Su calidad, confiabilidad, cuidado por el medio ambiente y sus empleados es con lo que puede contar.
He trabajado con el Sr. Norberto Cortes durante varios años y juntos estamos trayendo estos maravillosos azulejos al resto del mundo. El Sr. Cortes se especializa en azulejos en alto relieve, cerámica y azulejos antihielo.
Sr. Norberto Cortes
Mr. Cortes reputation of excellent quality and durable tiles is widely known. His work has being recognized with several awards as: "Arch of Europe Gold Star for Quality" and the Brazilian "Medalha de Ouro".s. He specializes in the superior frost-proof and High relief tiles.
Mr. Cortes is the 3rd generation of a family dedicated to the Talavera process since back when the Spanish people came to Mexico. They have focus on improving his methods to achieve higher resistant tiles. Here is Mr. Cortes own words:
"The legacy of deep spanish roots and moorish style blend whith natural talent and colour-acuteness in Mexican Crafsmanship, are ever-present attribute in our Talavera Tiles.
We manufacture the finest glazed titles for creating finishing details of a unique beauty in any building project.
The formula for reaching and maintaining this category consists in using only the best local and imported raw-materials, plus and correct manufacturing process combined whith the natural skills of our craftsmen.
The Manufacturing excelence in Azulejos Talavera Cortés® is a shining example of World Class Craftsmanship."
I'm fortunate to have met Mr. Cortes as I'm sure you will when you receive your package a big whaooo awaits you.
In the name of these two wonderful Artisans, their family and employees, thank you and enjoy a piece of Mexico in your place.
Delivery tIme: 10-15 business days (USA)
15-20 business days (Canada)
20-25 business days (All other countries)
- All our shipments are covered with insurance for any loss or breakage during transit.
- We use DHL, Fedex and EMS for better service and full tracking on line.
- Customs/import fees may apply for your country, please check with your local agencies for specifics. You are responsible to pay for these fees
- If you have a big order we can ship by truck or ocean freight, for a cheaper option for your high quantity order ( usually 500 tiles or more). Please contact us to request a shipping quote for this option.
Packing Details:
- We use a professional packing company for all our shipments, your art will go very well protected with at least 2" of foam all around, bubble wrapped and when necessary double boxed. Rest assure it will reach you safe and sound. We have a record of minimum broken pieces if any.
How do I install my Mexican Tiles?
We highly recommend you hire an specialist in tiles installation, however if you decide to do it yourself we can give you a few suggestions: Please check this link for a detailed step by step installation process: How to install mexican tiles
Talavera Mexican tiles are installed very much as any other ceramic tile, however due to the handcrafted process the look will be more rustic and less perfect, but this is the real beauty of it, you get a very unique decoration nobody else would have.
How do I clean my Mexican Tiles?
Taking care of your talavera tiles is simple, just use a MILD cleanser and water, you will notice they get easily clean. Don't use abrasive cleansers or bleachers they will eventually damage your tile glaze finish.
How long will it take to have my order delivered?
Please check our shipping information tab for specific timing for your country.
Why can it take long time to deliver my handicraft?
A true handcrafted art is made per order, this allows the Artisan to use fresh materials and take the time to make a wonderful piece, at the same time giving our customers a unique opportunity to specify any requirement they may need or want, so you get a chance to request your unique ideas/designs.
We believe in keeping low to zero inventory helps many ways: Environment, low costs, space, energy, etc, and we are happy to pass those savings to you and give more to the Artisan, that is the beauty of working directly with the handcrafters: You get what you really want.
We appreciate your patience, however if you are in a rush we also can help you by hiring more Artisans or having the family's Artisan work together, so please feel free to contact us if you need your Mexican Art by an specific date. We most surely can supply your needs.
One picture says more than thousand words, here are some ideas for decorating your home with our wonderful Mexican Arts, Enjoy. Please click here SHOWROOM