Mexican Bronze Faucets Set Montilla
These Bronze Faucets are of extreme durability and beauty, they will bring a real sense of nature to your environment. Carefully handcrafted in specials molds, our heavy duty faucets are guarantee to last generations, corrosion resistant, low maintenance, you will be glad to posses such a wonderful piece of art.
Comes with 2 High Quality mixer valves
Wide selection of patina finish (select below) to match your bronze sink
Complement it with our bronze sinks: Bronze Sinks
Bronze sinks are of extreme durability and nature beauty, like having a rock molded into a sink, they will bring a real sense of nature to your environment.
Carefully handcrafted in specials molds, our heavy bronze sinks are guarantee to last generations, corrosion resistant, low maintenance, you will be glad to posses such a wonderful piece of art.
Each sink comes with a matching bronze drain fitting, all you need to do is connect your plumbing line and you are set, no need to search for a matching fitting.
Complement it with our line of Bronze faucets for an all round bronze beautiful decoration, be ready for your guest big whaooo!
Material: Cast Bronze
Finish Color: Please select from the options above in the drop down menu.
Note: Due to different monitor color resolutions what you see may differ a bit for what you get.
If you need a better color match, or want to make sure you get what you need, please contact us. We can arrange for samples or other ways to help you.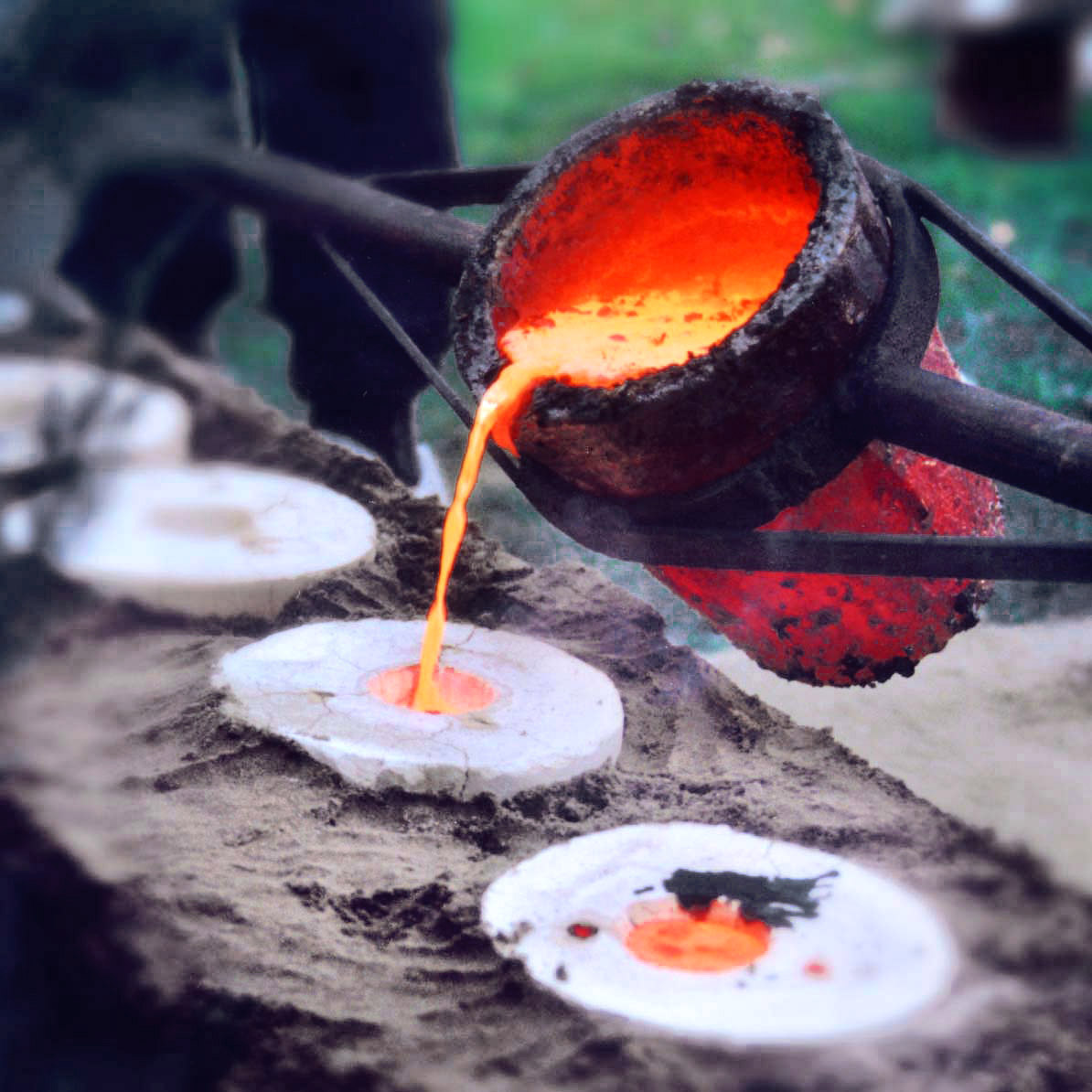 Mr. Salvador Ramirez is a Chemical Engineer, witch is why I'm confident to guarantee his work. In the field of making Bronze Art, knowledge of the right process is crucial for a quality piece. I've being glad to receive many positive feedback at Salvador's work, he is a great Artisan  to work with, you can always count on his professionalism. I'm happy to introduce you to my friend and one of the finest Artisan in San Miguel de Allende:
Mr. Salvador Ramirez
His shop will tell you a lot about him, once you step inside there will be no doubt in your mind that he is a great Artisan. He has a full manufacturing process for Bronze and Pewter, giving him the ability to control his designs, materials and process. . Here is Salvador's own words:
"Im the 5th generation of Artisans in my family.  When I was young I decided to study chemistry so I could increase our knowledge and create new and better Arts. For the last 16 years I have focus on Bronze and Pewter Art, learning from other experienced artisans and  my own, I have created a high quality process with several hundreds designs. My brother, a designer, has helped me as well with his  ideas  in  the latest home decor  trends".
Here is a brief description of how a Bronze Piece gets done from the idea to the complete piece:
"First I draw the concept  or idea I want to create in paper. Then we make a wooden-metal mold where the desired piece will be melted in. I use a very antique and traditional method of sand casting in witch an special sand is used to keep the material in place and give it the desired form. We use high temp. ovens to melt the Bronze at about 950 degress and pour it into the mold.  Each bronze sink is then finished, patinated and waxed by hand. Our bronze sinks have a living finish that evolves over time."
Salvador's materials are free of any toxics and he recycles whenever possible without compromising his quality. He employs several other Artisans to help him with his work. I'm glad to be able to support this wonderful Artisan and  help him reach new customers that will keep his passion Alive.
In the name of Mr.Salvador, his family and employees, thank you and enjoy a very unique piece of Mexico in your place.
Delivery tIme: 10-15 business days (USA and CANADA)
                      15-20 business days (All other countries)
- All our shipments are covered with insurance for any loss or breakage during transit.
- We use DHL, Fedex and EMS for better service and full tracking on line.
- Customs/import fees may apply for your country, please check with your local agencies for specifics. You are responsible to pay for these fees if any.
Packing Details:
- We use a professional packing company for all our shipments, your art will go very well protected with at least 2" of foam all around, bubble wrapped and when necessary double boxed. Rest assure it will reach you safe and sound. We have a record of minimum broken pieces if any.
How do I clean my Mexican Bronze Sink?
Taking care of your Bronze sink is very simple, just use a MILD cleanser and water, you will notice they get easily clean. Don't use abrasive cleansers or bleachers but you can use an scotch brite if you need to, your sink is scratch resistant :-).
How long will it take to have my order delivered?
Please check our shipping information tab for specific timing for your country.
Why can it take long time to deliver my handicraft?
A true handcrafted art is made per order, this allows the Artisan to use fresh materials and take the time to make a wonderful piece, at the same time giving our customers a unique opportunity to specify any requirement they may need or want, so you get a chance to request your unique ideas/designs.
We believe in keeping low to zero inventory helps many ways: Environment, low costs, space, energy, etc, and we are happy to pass those savings to you and give more to the Artisan, that is the beauty of working directly with the handcrafters: You get what you really want.
We appreciate your patience, however if you are in a rush we also can help you by hiring more Artisans or having the family's Artisan work together, so please feel free to contact us if you need your Mexican Art by an specific date. We most surely can supply your needs.