Mexican Talavera Fountain Floral Amarillo
Fabulous Mexican Fountain hand painted patiently by the Artisan. Your patio or garden will look fantastic, a piece of Art to impress your guests. We can customize any design.
50" Height x 18" Wide

Ceramic Hand Painted Tradition of Talavera process
These beautiful ceramic talavera fountains will bring colorful and happy vibrations to your garden or patio decor. They are unique, each hand painted having their own personality. More than a plain decoration, these Mexican Talavera fountains will create a warm and cheerful environment to lift your mood at any time. The artisans passion and love for their work in these arts are easily shown at first glance.
If this talavera design is not what you looking for, we can make any design you may have in mind, or you can select from our talavera tiles a pattern you may like.
We are reaching far lands with our lovable Mexican Talavera Arts. from Australia to Canada, we are glad they are reaching far lands and making someone's home a bit more "Feliz".
Size: 50" Height x 18" Wide
Material: Talavera and natural colors
Note: Due to different monitor color resolutions what you see may differ a bit for what you get.
If you need a better color match, or want to make sure you get what you need, please contact us. We can arrange for samples or other ways to help you.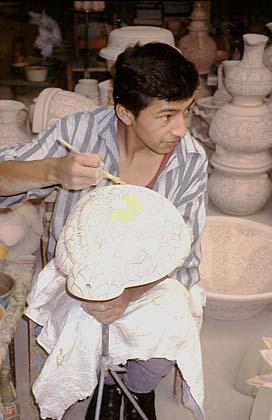 Mr. Jorge Luis Manzano
You can immediately see the quality of his work at first glance. Mr. Manzano Arts are reaching lands as far as Australia and Europe, I get complements all the time (check our testimonials page). Here are Mr. Manzano own words:
"My family has been in this guild for 95 years. The workshop was founded 4 generations ago by my Grand Grand Father Jorge Manzano, who passed the knowledge and skills to his descendants and ultimately to me".
"We create these beautiful pieces of art by the combination of three types of clay, which in turn provides three different shades of color. We knead the clay by hand or foot, and then we shape and dry it. The pieces are then fired at an extreme heat (850 degrees Celcius). Once they cool, they are submerged in glaze, which brings their color to life. Patterns are then drawn and painted on the pieces. That's why the designs are slightly raised off of the surface of the pottery. With an additional firing (this time at 1000 degrees), the Talavera work of art is complete and ready to be used and admired. Whenever is viable, we use recycled materials in our facilities, including recycled paper".
In the name of this wonderful Artisan, his family and employees, thank you and enjoy a piece of Mexico in your home.
Delivery tIme: 10-15 business days (USA)
15-20 business days (Canada)
20-25 business days (All other countries)
All our shipments are covered with insurance for any loss or breakage during transit.
We use DHL,

Fedex

and EMS for better service and full tracking on line.
Customs/import fees may apply for outside the USA countries, please check with your local agencies for specifics. You are responsible to pay for these fees
If you have a big order we can ship by truck or ocean freight, for a cheaper option for your high quantity order. Please

contact us

to request a shipping quote for this option.
Packing Details:
- We use a professional packing company for all our shipments, your art will go very well protected with at least 2" of foam all around, bubble wrapped and when necessary double boxed. Rest assure it will reach you safe and sound. We have a record of minimum broken pieces if any.
One picture says more than thousand words, here are some ideas for decorating your home with our wonderful Mexican Arts, Enjoy. Please click here SHOWROOM